The Shiawassee County Road Commission (SCRC) is responsible for winter maintenance on 1,097 miles of county roads and 282 lane-miles of state highways and expressways. Winter maintenance activities include applying salt and sand, as well as plowing snow on roadways and shoulders.
Here's a summary of our priorities during a storm:
Primary Routes: The most highly traveled roads in the county. When it's snowing, SCRC crews focus all efforts to keep these clear for emergency vehicles and all travelers.

Examples: State highways (I-69, M-52, M-21, M-71, M-78) and County paved roads.

Secondary Routes: Local roads like subdivision or gravel roads.

These will be cleared once the primary routes are cleared, if it starts to snow again, SCRC crews will leave these roads to go back to primary routes.
After a major storm or back-to-back storms, subdivision and gravel roads might not be cleared for a few days due to road conditions, timing and the severity of the storm.
After a major storm or back-to-back storms, subdivisions and gravel roads may not be cleared for a few days due to road conditions, timing and the severity of the storm.
SCRC clears roads according to the priority system. SCRC will focus its efforts on highways and main paved roads before addressing subdivisions and gravel roads.
Mailboxes can be knocked down by SCRC trucks when they plow snow. SCRC's policy is to reimburse homeowners whose mailboxes have been hit by a snow plow. However, SCRC may not reimburse a mailbox if it was broken by the sheer force of the snow coming off the plow blade. Please call (989) 743-2228 to report.
Residents should prepare mailboxes for winter by tightening screws and ensuring the post and receptacle are secure enough to endure large amounts of thrown snow. If the mailbox moves when shaken, it may not withstand standard snow removal operations and should be repaired or replaced before winter. Installing snow boards is another option for protecting your mailbox, see illustration under FAQ "tab" mailboxes.
SCRC's priority is the safety of the traveling public which means that sometimes snow is pushed into driveways during plowing operations. While plow crews try to minimize the amount of snow that gets plowed into driveways during a storm, it is the responsibility of the property owner to clear their driveway opening.
We understand this can be very frustrating. To minimize extra work, SCRC recommends that you shovel to the right side of your driveway (see graphic below). Shoveling an area large enough to hold the snow coming off a plow blade may help reduce the need for a "second shovel."
Trash containers should be placed in driveway not next to road as the weight of the snow will knock down these containers.
We cannot pick up the plow blade every time we pass a driveway; it is impractical and our drivers would never finish clearing the roads due to the sheer number of driveways in the county.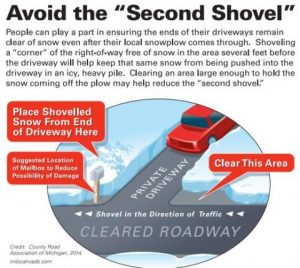 There are a couple of reasons plows aren't always pushing snow:
Plows may be headed back to the garage to reload materials.
The road may have been treated with salt or de-icing products and the driver is monitoring the route while giving the mixture time to work.
The driver is traveling to his/her assigned route and may not have the responsibility for the road he/she is currently on.